Packaging Robots Integrator
---
ONExia Robotics is a division of ONExia Inc. focused on the automation of end of line packaging applications using collaborative robots.
Robotic Packaging Machinery
Automation that permanently solves the labor shortage!
Designed to automate repetitive manual processes typically done by human labor, ONExia's solutions are a cost effective, flexible alternative to standard packaging machinery.
Turn-key, collaborative packaging systems
Modular solutions for process automation on existing lines
Custom end-of-arm gripper and tooling design
On-site integration services and support
---
More than just packaging! ONExia offers complete custom machine and robotics integration services. To learn more, visit: onexia.com
Packaging Line Design
---
ONExia's specialty is turn-key! Since 1984 our engineers having been designing, building and integrating custom solutions to automate manual processes.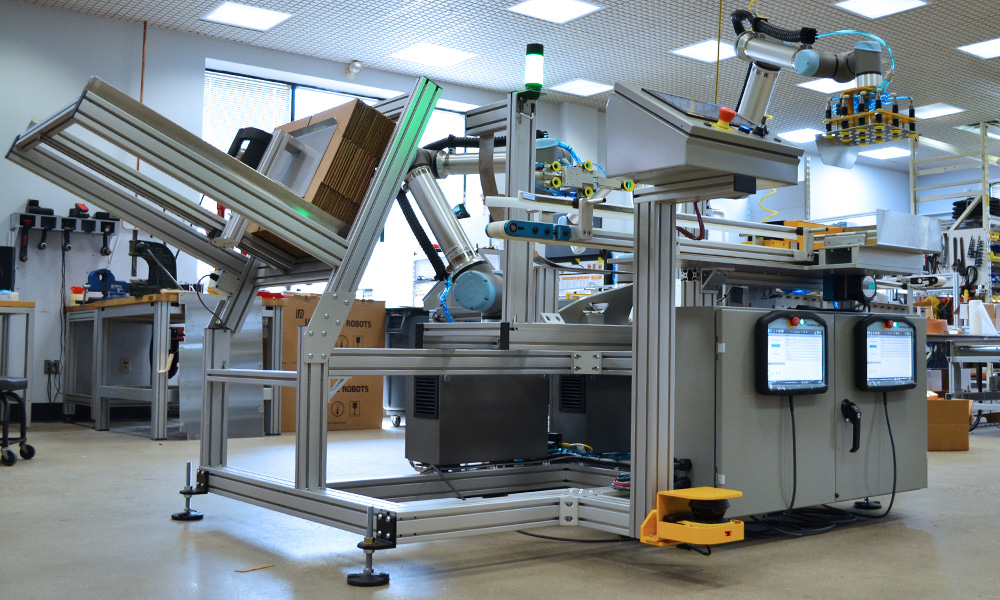 Following our refined design process, we provide fully automated packing lines custom designed to meet production goals.
In-feed Conveyor Configurations
For applications that require additional conveyors, ONExia provides the design services, integration, and support directly.
Custom layouts - integrated with existing floor plans
Nesting pushers - assure product is correctly oriented for packing and shipping
Safety integration - e-stops for motor driven conveyors and pushers
Packaging Line Integration Services
---
What separates ONExia from other packaging automation companies is our in-house capabilities. From initial concept to acceptance testing, we control every aspect of the project.
Fabrication and Assembly
Every system is designed and built at our state-of-the-art facilty in Pennsylvania. With a full machine shop on hand much of the custom work needed is done in-house.
---
Custom Robotic Software
With a team of software engineers on hand, our robotic cells are controlled on a simple to use touchscreen interface. Additional services include:
Machine-to-machine communications
Data collection / database interaction
Remote access services
---
End of Arm Tooling & Grippers
When off-the-shelf grippers are not an option ONExia can provide custom tooling, both electric and pneumatic, that is designed to meet the specifics of your application.
---
Documentation, Training, & Support
Following deployment of the cell, we offer the service and support needed to assure the system meets your production goals.
Machine manuals and documentation
On site installation and training
Remote and on-site troubleshooting and support
Get Started Today
Have an application that needs a custom robotic cell? Fill out the form below and let's get started!