Robotic Packaging Line Design Process
---
With over 35 years of custom machine building and robotic integration experience, ONExia maintains a proven design process that assures success with every project.
Whether you are looking to make your first investment in automation or looking to add additional robots to your operations, ONExia's commitment to providing expert level service remains the same.
Robotic Cell Design Process
Our process ensures success by working directly with customers through every custom robotic cell build.
Initial Concept / Budget Phase
We work closely with the customer prior to their developing a specification and/or RFQ
1. Specification Development
Determine the requirements and sequence of an assembly process.
2. Proposal Development
Answer the specification by providing a statement of work and formal request for quote piece by piece.
ORDER RECEIVED
---
Kick-off Meeting
Held in-person or virtually the project formally begins with both ONExia and the customer.
1. Introduction
Introduce the ONExia project team to the customer's team.
2. Review
Review the proposal, concept, and customer's statement of work.
3. Inspection
Site inspection of the machine's final location to determine special limitations.
4. Schedule
A formal project schedule is presented to and reviewed with the customer.
5. Acceptance Criteria
An initial criteria based on project statement is given to show expectations are met.
6. Technical Review
Identify areas of technical concern for possible prototyping.
7. Samples
Parts for design, prototyping feeder selection and machine programming.
DESIGN BEGINS
---
Design
ONExia's project team of engineers begins design of the machine starting with prototyping.
1. Prototyping
If any phases or aspects of the machine were deemed necessary for early phase prototyping, they are reviewed.
2. Preliminary Design Reviews
Any interim design phases that may require customer review are scheduled.
DESIGN COMPLETION
---
Design Review
A formal review of the cell is design where the following items are addressed:
3D Model of the machine
Machine sequence
Software screenshots
Technical aspects, tooling
Safety review
Final acceptance criteria
DESIGN APPROVED
---
Machine Assembly
Following approval all software and physical assembly begins development
Fabrication drawings
Panel layout & wiring schematics
Part fabrication
Machine assembly & wiring
Software development
MACHINE BUILD COMPLETE
---
Machine Testing
Prior to shipment testing is done and drawings are finalized for delivery.
Machine debug
Pre-FAT testing
Acceptance testing
As-built drawings
SHIPMENT OF ROBOTIC CELL
Detailed drawing are presented showing the complete robotic cell proposal.
Prototyping is done with customer supplied parts to design custom end-of-arm tooling.
All of our engineering work is done in-house by our team of dedicated engineers.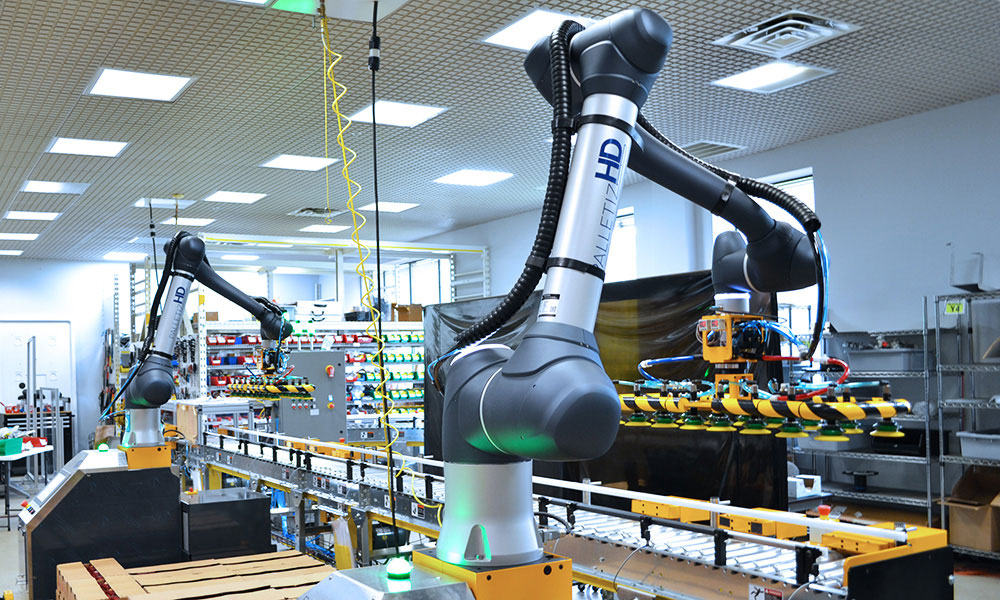 Prior to shipment a vigorous round of testing is done to ensure the robotic cell works upon delivery.
Delivery Services & Support
Following shipment of the completed cell ONExia's service does not end. We provide both initial services upon delivery along with continued support well after the robotic cell is running on your production lines.
Services on Delivery
Based on the application specifics, ONExia provides the following services upon delivery:
On-site assembly / start-up
Virtual start-up (if possible)
Training for employees working with the robotic cell
Complete documentation and manuals
Continued Support
Following delivery, ONExia's support does not stop. Our engineers continue to provide the following services:
Virtual or on-site troubleshooting
Tooling changes as production expectations shift
Warranty support & repairs
Shortened lead times on duplicate systems