Robotic Case Erector
---
ONExia offers a turn-key collaborative robotic case erector systems that prepare flat cases for fulfillment on packaging lines.
End-of-line Packaging Automation
Using a Universal Robots cobot arm, our collaborative robotic case erector is an alternative to standard box erectors.
Integrated collaborative robot arm
Multiple flat shipper magazines
Optional top/bottom box taper
Driven end conveyor
Custom vacuum end-effector
Sturdy, robot pedestal
Easily added to existing conveyor layouts
Built with the future in mind, our collaborative case erectors can be adjusted to handle new case sizes as production changes.
High Capacity Case Erector
The high capacity robotic case erector picks from two flat shipper magazines providing the option to use two different case sizes with one arm or dual load with the same box size to decrease downtime when reloading.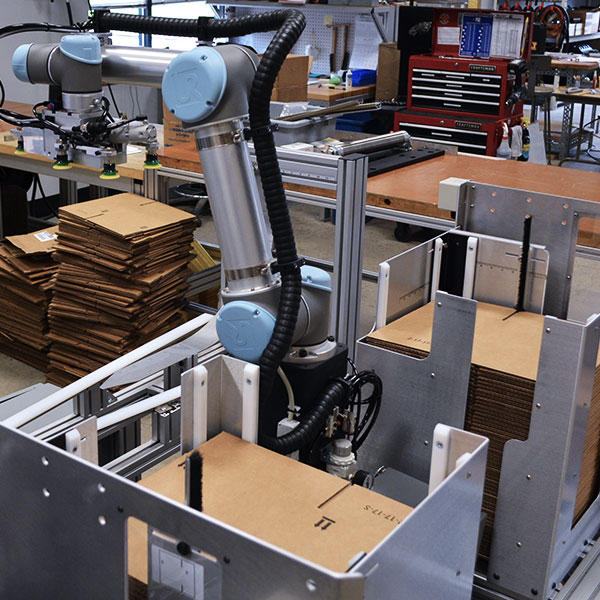 By using a collaborative robot this system requires no additional caging providing a space saving solution for both new and existing packaging lines.
Compact Case Erector
This compact case erector system features a single spring-loaded flat shipper magazine that can be loaded while the system is operating. Integrated with a case packer, this system provides a turn-key end-of-line packaging solution.
Fully collaborative! This system features two collaborative robots with integrated safety scanners eliminating the need for guarding or caging.