Robotic Palletizer
---
Robotic palletizers automate the manual process of stacking boxes onto a pallet for final shipment.
Using collaborative robots, ONExia's robotic palletizers require no caging or guarding to operate providing a flexible alternative to industrial packaging machinery.
Robotic Palletizing Systems
With minimal integration needed, ONExia collaborative palletizers can be added to existing packaging lines in minutes.
Collaborative - operates alongside humans with no physical caging or guarding needed
Durable & portable - welded steel frame that can be moved by forklift or pallet jack
Minimal integration - requires only a 110v outlet and standard air line to operate
No programming - drag-and-drop palletizing software on a touchscreen interface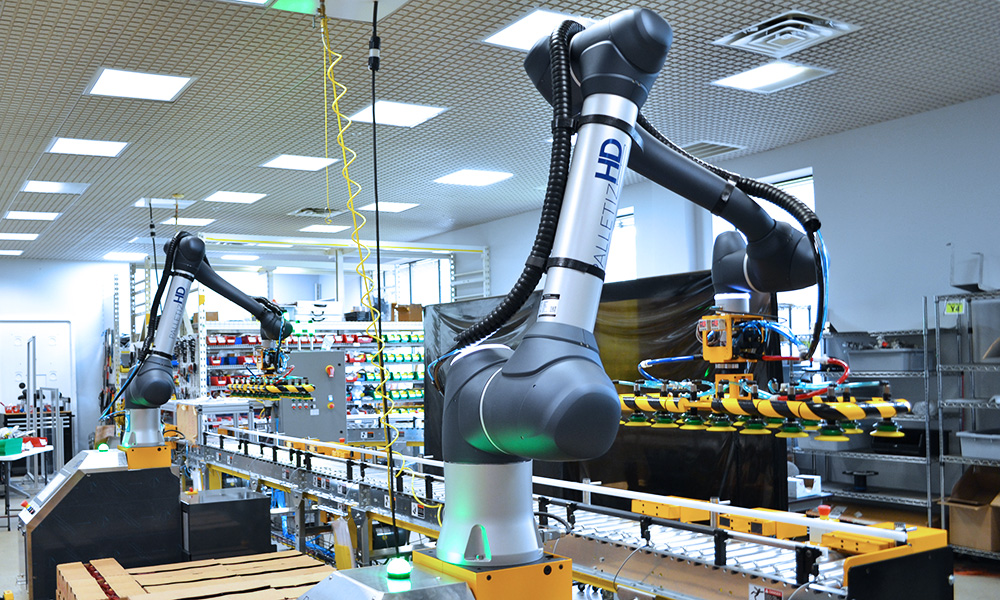 NEW VIDEO: Every ONExia Collaborative Palletizer features a portable design that can be added to existing lines in minutes.
Advantages of Cobot Palletizers
Struggling to hire labor for your packaging lines? Deploy a collaborative robot.
Automate the dull, ergonomically unsafe task of palletizing boxes with a cost effective, robotic solution.
Minimal Footprint
By using a cobot the overall footprint of automation is comparable to the space required for manual palletizing.
Flexible Automation
Easily change out end-of-arm tooling and adjust pallet configurations without writing a line of code.
Industry Leading ROI
Cobots provide a cost effective alternative to centralized robotic palletizers providing an ROI of under one year.*
Repurpose Existing Labor
By automating palletizing, existing labor can repurposed to positions that are more difficult to automate and more desirable to work in.
*Running 3 shifts a day, actual ROI may vary based on production rates.
---
Palletizing Software
Robotic automation without writing a line of code.
Every ONExia palletizer comes preloaded with the ONExia Palletizing Software preloaded on the touch screen interface.
Simplified usability – control through the entire palletizer through a single touchscreen interface
No programming – drag and drop pallet building interface
Pallet library - save and recall pallet configurations as production changes
User credentials - provide varying levels system of access based on username
Customizable Pallet Configurations
Using ONExia's Palletizing Software end-users can customize pallet configurations without writing a line of code.
Slip Sheets
Simply teach the repeatable pick point and add a slip sheet layer to the pallet configuration, the software does the rest.
Label orientation
Select a reference edge on the touchscreen prior to dragging box into place, the cobot will face the label outward automatically.
Collaborative Robot Safety
Designed and built by ONExia Inc. in Pennsylvania, every palletizer features a collaborative safety rating.
Using collaborative robots from industry leading vendors and safety rated components, ONExia robotic palletizers have been reviewed by a third party and conform to the safety ratings necessary to run unguarded within palletizing applications.
Robotic Palletizing End-Effectors
Designed specific to each application, every ONExia Robotics Palletizer comes with the end-of-arm tooling needed to assure your cobot deployment is successful.
Dedicated vacuum pumps – in line with every suction cup for maximum vacuum capacity
Dual pick functionality – pick two cases at once for increased cycle time
Vacuum sensors – assure pick is successful prior to moving over the pallet
Tool changer – easily interchange grippers without powering down the system
Nesting Conveyor Design
Customized to fit existing conveyor layouts, ONExia's infeed solutions provide a flexible nesting system that is controlled through the touchscreen and can be easily reconfigured for different case sizes in minutes.
Hand adjustable guide rails for single and dual pick options
Pneumatic nesting cylinder that is controlled through the palletizing software
Built-in presence sensors for indexing cases from the staging to pick location
Integrated e-stop for end-user safety
Plug and play design, no programming needed!
NEW VIDEO: Backed by the ONExia Robotics team of engineers, every collaborative palletizer comes with the custom hardware needed for simplified line changeover.
---
PalletizHD - Heavy Duty Palletizer
Using a high payload Doosan Robotics cobot, the PalletizHD palletizes heavy boxes with ease.
High payload cobot - featuring a 38 lb payload the "HD" can handle heavy cases that are tough to consistently stack or pick multiple cases at once for an increased output rate.
Increased vertical reach - the "HD" is capable of stacking pallets up to 105 inches in height.
---
PalletizUR - Collaborative Palletizer
Designed using a Universal Robots 10e cobot, the PalletizUR is a plug-and-play palletizing robot.
Integrated cobot - Universal Robots UR10e OEM arm
No teach pendant - fully controlled through a single touchscreen interface
Payload - up to 18 lbs (POC recommended)
---
PalletizCRX - FANUC Palletizer
Using the new FANUC CRX line of cobots, The PalletizCRX is FANUC palletizer users looking for a collaborative solution.
Integrated cobot - FANUC CRX-10iA/L cobot arm
Simplified design - a flexible alternative to centralized FANUC robotic palletizers
Payload - up to 18 lbs (POC recommended)