Palletizing Robots
---
The answer to your labor shortage! ONExia provides turn-key robotic palletizing systems that can be integrated into new and existing packaging lines.
Robotic Palletizing Systems
Each one of our palletizing robots provides a turn-key robotic solution that meets the production rates of today with flexibility to change with production demands.
Whether it is your first time implementing a robotic solution into your facility, or you are just looking to continue streamlining your process, our team provides the solutions that work for you.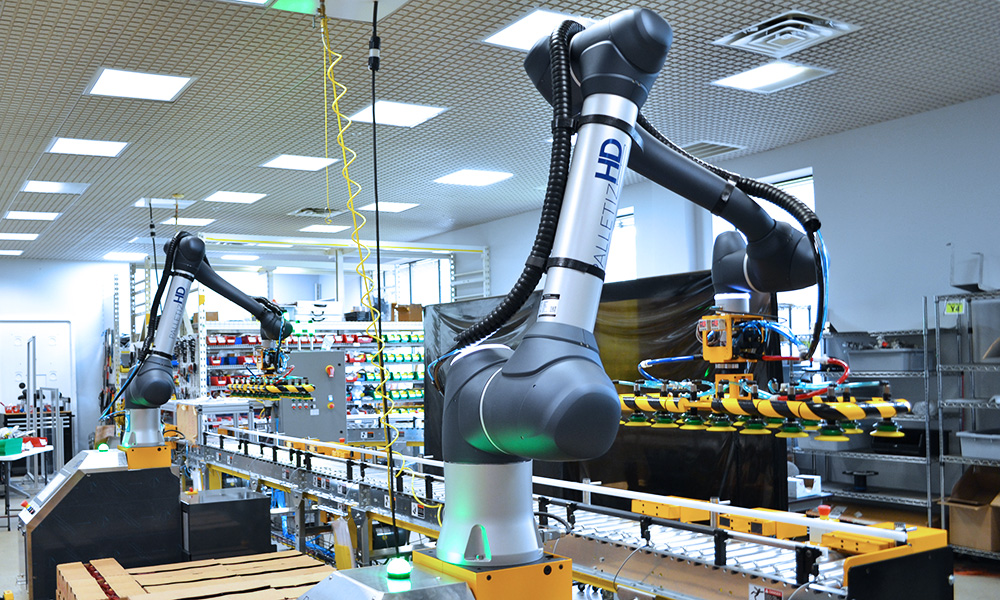 Collaborative robot palletizers
---
Being collaborative means it works along-side workers, cage-free! This allows a robotic palletizing system to be added to an existing line without additional guarding or fencing making set-up simple and non-invasive.
Eliminate Manual Operations
By eliminating the manual processes of stacking boxes, workers are removed from a job where ergonomic injuries are likely to occur. This frees a valuable skilled laborer to work on a more value-added task.
Set-up & Software
Minimal integration means minimal set-up. Our collaborative palletizing robots only require a standard outlet and an air connection. Paired with the drag and drop software, production can begin in minutes!
PalletizUR - Collaborative Palletizer
Turn-key palletizing with a Universal Robots UR10e "cobot" arm! The PalletizUR comes ready to run out of the crate.
Universal Robots UR10e integrated "cobot" arm
No teach pendant - integrated HMI with custom software
Payloads up to 18 lbs (POC recommended)
The PalletizUR is a product of ONExia Inc., designed and built by our engineers in the USA!
PalletizHD - Heavy Duty Palletizer
By combining a high payload cobot with our palletizing robot base, the "HD" is ready for even tougher applications.
High payload cobot - featuring a 38 lb payload the "HD" can handle heavy cases that are tough to consistently stack or pick multiple cases at once for an increased output rate.
Increased vertical reach - the "HD" is capable of stacking pallets up to 90 inches in height.
The PalletizHD™ is a product of ONExia Inc., designed and built by our engineers in the USA!
PalletizCRX - FANUC Palletizer
Using the new FANUC CRX cobot, this turn-key palletizer provides a turn-key system for FANUC users looking for a collaborative solution.
Integrated FANUC CRX-10iA/L collaborative robot arm
Drag and drop pallet building on a dedicated HMI
Payloads up to 18 lbs (POC recommended)
The PalletizCRX™ is a product of ONExia Inc., designed and built by our engineers in the USA!
Gantry Palletizer
---
ONExia offers fully custom, turn-key gantry palletizing that are the ideal solution when payload, speed, and travel are all a factor within the application.
Robotic Gantry System
Utilizing our background in motion control and precision positioning, our team of engineers custom design and build a solution that integrates directly into brand new and existing packaging lines.
Turn-key, factory automation solution
Fully guarded with an integrated safety PLC
Custom end-effector for each application
Integrates with exisisting conveyors
Built to spec - customizable to your applications
Ideal solution for higher payload applications
Useability & Safety
Built specific to every application, our gantry palletizing systems can be directly integrated into both new and existing operations.
Aluminum extrusion frame
Interlocking aluminum guarding doors
Easily interage pallets within the work area
Custom Software
With a team of software engineers in-house, our gantry robots come pre-loaded with software customized to your application.
Simple user-interface
Customize positions specific to the operation
Stack light for systems alerts