Robotic Palletizer
---
Robotic palletizers automate the manual process of stacking boxes onto a pallet for final shipment. By using collaborative robots, ONExia palletizing systems are a flexible alternative to standard packaging machinery.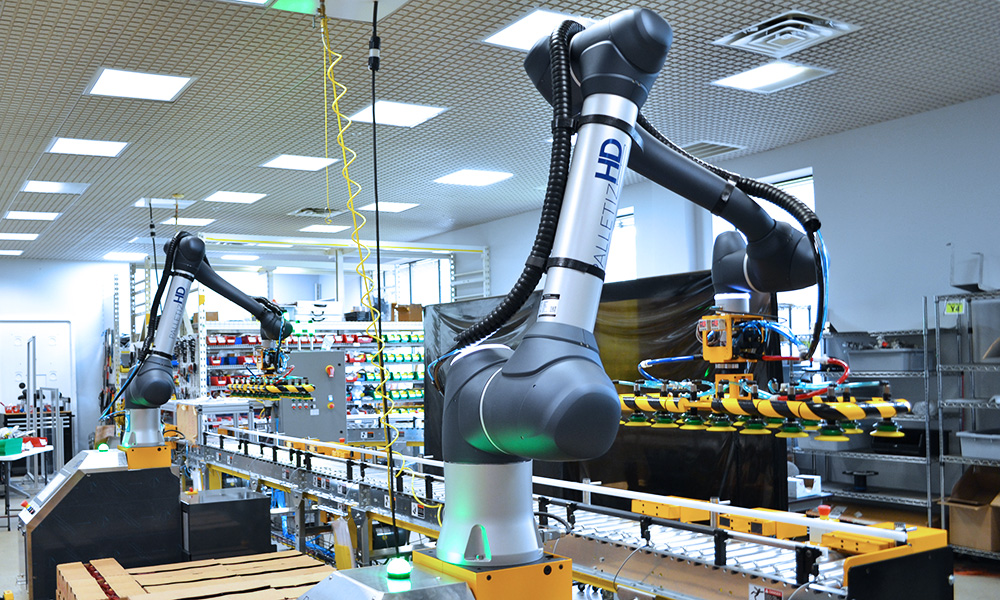 Robotic Palletizing Systems
With minimal integration needed, ONExia palletizers can be added to existing packaging lines in minutes.
Collaborative - operates alongside humans with no physical caging or guarding needed
Durable & portable - welded steel frame that can be moved by forklift or pallet jack
Minimal integration - requires only a 110v outlet and standard air line to operate
No programming - drag-and-drop palletizing software on a touchscreen interface
Advantages of Cobot Palletizers
Struggling to hire labor for your packaging lines?
Automate the dull, ergonomically unsafe task of palletizing boxes with a cost effective, robotic solution.
Minimal Footprint
By using a cobot the overall footprint of automation is comparable to the space required for manual palletizing.
Flexible Automation
Easily change out end-of-arm tooling and adjust pallet configurations without writing a line of code.
Industry Leading ROI
Cobots provide a cost effective alternative to centralized robotic palletizers providing an ROI of under one year.*
Repurpose Existing Labor
By automating the task of palletizing, existing labor can focus on more difficult manufacturing processes.
*Running 3 shifts a day, actual ROI may vary based on production rates.
---
---
Palletizing Software
Robotic automation without writing a line of code.
Every ONExia palletizer comes preloaded with our custom designed software preloaded on the touchscreen interface.
Drag-and-drop UX - build and save pallet configurations in minutes
Pallet library - save and recall pallet layouts as production changes
User credentials - provide varying levels of access based on username
Collaborative Robot Safety
Designed and built by ONExia Inc. in Pennsylvania, every palletizer features a collaborative safety rating.
Using collaborative robots from industry leading vendors and safety rated components, ONExia robotic palletizers have been reviewed by a third party and conform to the safety ratings necessary to run unguarded within palletizing applications.
---
PalletizHD - Heavy Duty Palletizer
Using a high payload Doosan Robotics cobot, the PalletizHD palletizes heavy boxes with ease.
High payload cobot - featuring a 38 lb payload the "HD" can handle heavy cases that are tough to consistently stack or pick multiple cases at once for an increased output rate.
Increased vertical reach - the "HD" is capable of stacking pallets up to 105 inches in height.
---
PalletizUR - Collaborative Palletizer
Designed using a Universal Robots 10e cobot, the PalletizUR is a plug-and-play palletizing robot.
Integrated cobot - Universal Robots UR10e OEM arm
No teach pendant - fully controlled through a single touchscreen interface
Payload - up to 18 lbs (POC recommended)
---
PalletizCRX - FANUC Palletizer
Using the new FANUC CRX line of cobots, The PalletizCRX is FANUC palletizer users looking for a collaborative solution.
Integrated cobot - FANUC CRX-10iA/L cobot arm
Simplified design - a flexible alternative to centralized FANUC robotic palletizers
Payload - up to 18 lbs (POC recommended)